Produce Display Tables for Sale in Tampa, FL
At LemonTree Products, we are a leading manufacturer of grocery table displays and fruit table displays that enhance the appearance and functionality of your store. We are passionate about the design of produce display tables and are dedicated to providing you with high-quality display solutions that help your grocery store stand out from the competition. Modular by design and customizable, our produce displays are the perfect choice for grocery stores of all kinds.
When looking for a manufacturer of produce displays, Tampa grocery store owners turn to the experts at Lemon Tree Products. We provide you with produce display solutions that make your produce department more inviting and set the tone for customers shopping in your store. Let us help you improve your grocery store by discovering your ideal produce display shelving solution. View our product line and book a free design consultation to see why we are the manufacturer of grocery store produce displays Tampa store owners trust most.
Book a Free DEsign consultation
Island Tables are the perfect modular solution, designed to be infinitely customizable and flexible. Learn more.

Hybrid Island Tables offer beautiful end caps with functional storage on steel shelves. Learn more.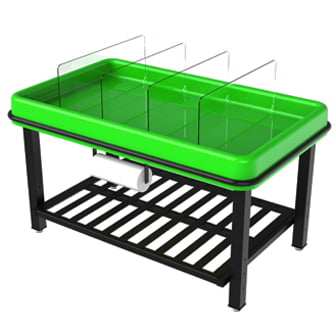 Market Tables offer an attractive, high capacity solution to the ever-changing needs of your produce department. Learn more.

Contemporary Market Tables offer an attractive, high capacity solution to the ever-changing needs of your produce department. Learn more.

Orchard Bins are designed to be the most versatile, the strongest and most beautiful produce display on the market. Learn more.

Designed as the big brother of our Market Tables, Square Tables create large flat surfaces for maximum display space. Learn more.

Wall Tables are the perfect solution for 'flush-to-wall' displays in smaller spaces, or outside your grocery store. Learn more.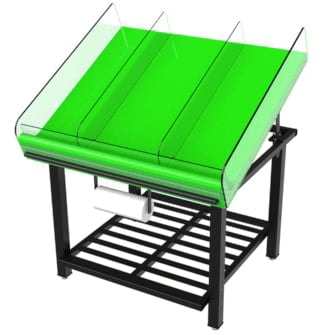 Euro Tables are fully modular, with an angled display surface that can be adjusted to whatever angle you need. Learn more.

Why Tampa Grocery Store Owners Choose Us
Tampa is known for its beautiful beaches, theme parks, and nightlife while always remaining a beautiful city to work and live in. Those who call Tampa home are proud to be part of their community and enjoy taking advantage of all it has to offer.
With a diverse population, Tampa is a city that is filled with cultural influences from all over the world. Small grocery stores in Tampa that cater to specialty needs and cultural cuisines are a staple within the city, with many options for residents to choose from. When looking for produce display tables that help them stand out within the city, grocery store owners choose LemonTree Products.
Book your free design consultation today to see just how impactful LemonTree Products produce display tables, and shelving can be.