Produce Display Shelving
LemonTree Products provides ideal solutions that uniquely suit your stores' display needs. Our produce shelves and fruit shelves are made to fit against walls, grocery shelves or other flat surfaces making them your top choice for smaller spaces or anywhere you wish to maximize space. Our produce display shelving is fully modular and can be produced in almost any length, from 2.5ft to over 100ft long!
Our Classic Wall Tables and Euro Tables are the perfect choice when looking for versatile and customizable produce shelves. With adjustable height shelves, adjustable levelling feet in our Euro tables and additional optional features, our product display shelving is uniquely suited to your specifications. Contact us today to learn more!
All Produce Display Tables | Produce Display Racks | Produce Display Shelving | Produce Display Stands | Farmers Market Stands
Island Tables
Island Tables are the perfect modular solution, designed to be infinitely customizable and flexible. Learn more.

HYBRID ISLAND TABLES
Hybrid Island Tables offer beautiful end caps with functional storage on steel shelves. Learn more.

Wall Tables
Wall Tables are the perfect solution for 'flush-to-wall' displays in smaller spaces, or outside your grocery store. Learn more.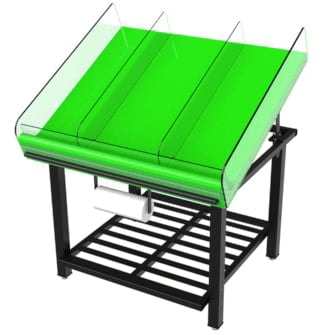 Euro Tables
Euro Tables are fully modular, with an angled display surface that can be adjusted to whatever angle you need. Learn more.