Produce Display Tables for Sale in Miami
At LemonTree Products, we are a leading manufacturer of grocery table displays and fruit tables that make your grocery store more inviting and functional. We are passionate about the design of produce display tables and are dedicated to providing you with high-quality produce display solutions for your grocery store. Our grocery store displays are modular in design and customizable, making them the perfect choice for any space.
When looking for a manufacturer of produce displays, Miami grocery store owners know that they can count on LemonTree Products to provide them with produce display solutions that enhance the appearance of their store. Let us help you improve your grocery store and discover your ideal solution for produce display shelving. View our product line and book a free design consultation to see why we are the manufacturer of grocery store produce displays Miami grocery store owners trust most.
BOOK A FREE DESIGN CONSULTATION
Island Tables are the perfect modular solution, designed to be infinitely customizable and flexible. Learn more.

Hybrid Island Tables offer beautiful end caps with functional storage on steel shelves. Learn more.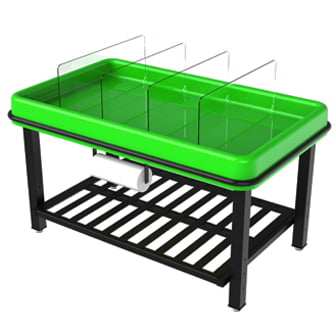 Market Tables offer an attractive, high capacity solution to the ever-changing needs of your produce department. Learn more.

Contemporary Market Tables offer an attractive, high capacity solution to the ever-changing needs of your produce department. Learn more.

Orchard Bins are designed to be the most versatile, the strongest and most beautiful produce display on the market. Learn more.

Designed as the big brother of our Market Tables, Square Tables create large flat surfaces for maximum display space. Learn more.

Wall Tables are the perfect solution for 'flush-to-wall' displays in smaller spaces, or outside your grocery store. Learn more.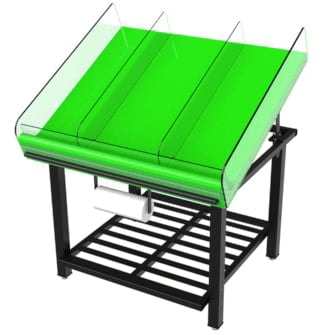 Euro Tables are fully modular, with an angled display surface that can be adjusted to whatever angle you need. Learn more.

Why Miami Grocery Store Owners Choose Us
Miami is an exciting and vibrant city known for its beautiful beaches and spectacular warm climate. With a strong Cuban influence in the city, Miami is known for its vibrant nightlife and is a destination for tourists. Though tourism is a major part of the city's economy, locals make up the heart of what Miami is.
Small grocery stores are a major part of what makes Miami special, with grocery stores catering to the unique and traditional cuisines of the city. With a variety of cultural influences, including its strong connections to Cuba, Miami residents expect their grocery stores to reflect the diverse culture of the city. When looking for produce display tables that match the energy of the city, grocery store owners can turn to LemonTree Products.